Sher on a Shier "Statements." (2018)
Gesamtlänge: 66:53 Min.
Label Raumer Records, Berlin
mit einem Vorwort von Grit Friedrich
!! Bestellung ab sofort möglich: mail@sheronashier.eu !!
Preis: 15,00 € zzgl. Versand (ca. 1,50€)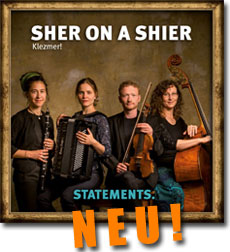 1. ZIS VI TSUKER
2. LEBEDIKH UN FREYLAKH
3. DI KLIVE SMISANKE
4. SHER
5. NIGN #138
6. TERKISHE YALE VE-YOVE
7. YIDDISHE HORA
8. GASN NIGUN #82
9. FIDDL SIRBA
10. HEBRÄISCHE MELODIE
11. GILGUL HORA
12. PERENITSA
13. DOINA
14. SERBA
15. DOBRANOTSH
16. MANEA
17. AZOY LANG
18. SKOCNE #80
Hier geht's zum Vorwort von Grit Friedrich –>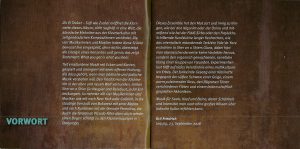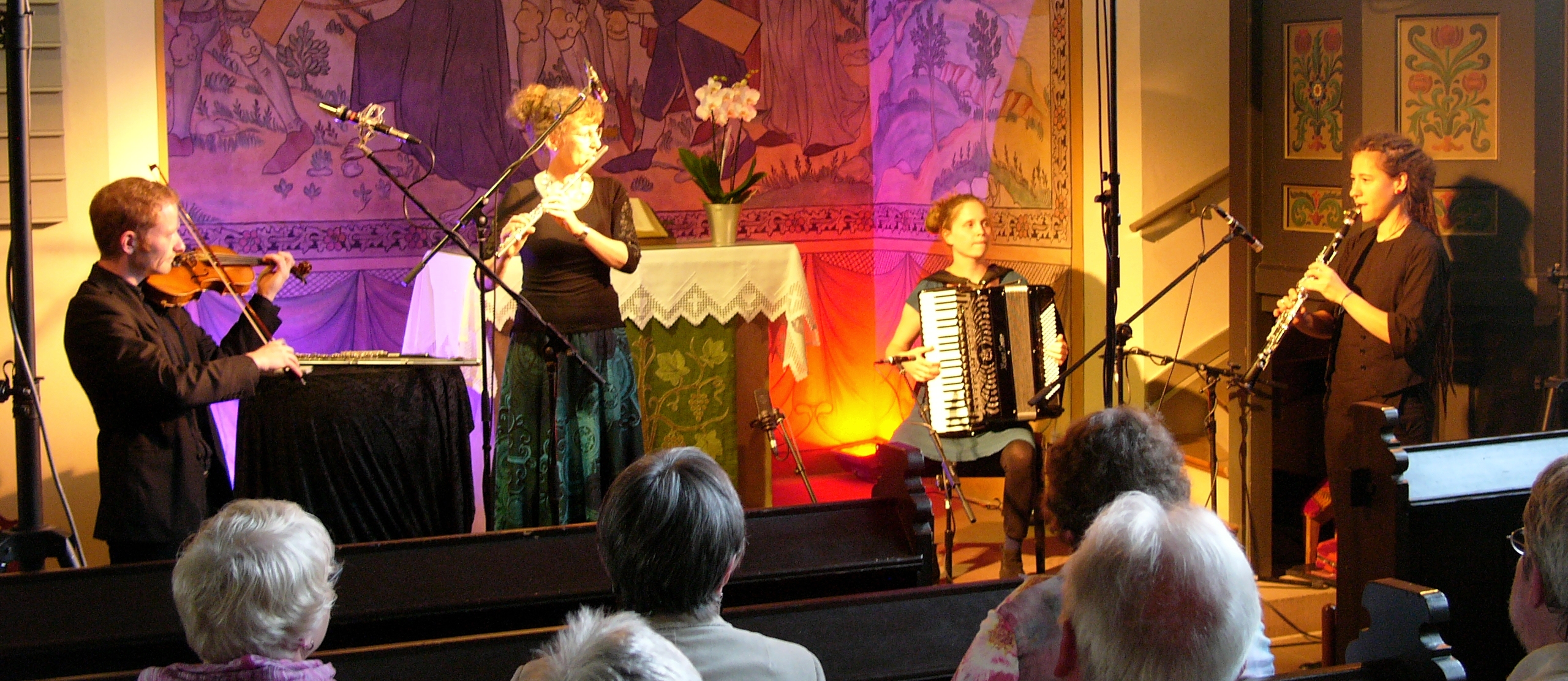 ---
"Sher on a Shier – der nicht endende Tanz" (2014)
Gesamtlänge: 53:06 Min.
Label Raumer Records, Berlin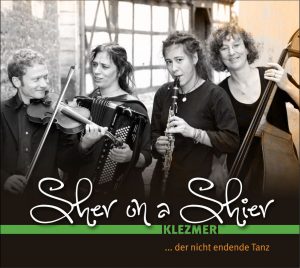 1. DI GROYSE HORA
2. TATAR
3. YEVREISKAYA
4. DOBRIDEN
5. HORA MIDOR
6. FREEDS SHER
7. YASER BULGAR
8. RUMÄNISCHE FANTASIE NR. 1
9. SIRBA / DER TERKISHER-BULGAR / SIRBA
10. FLATBUSH WALTZ
Kurt Bjorling, Chicago (Brave old world,  u.a.) schreibt über die CD von Sher on a Shier:
"Sher on a Shier surprised me with the music in this program – several times!…
I am impressed by the freedom and flexibility of Sher on a Shier, especially in their treatment of formal structure. They do not routinely play all the sections of each piece in the "normal" order, or for the "normal" number of repetitions.
They use the available source material the way a good cook uses ingredients, adding more where it is needed, leaving out what is not needed, and always testing the flavor, ready to make changes to achieve the desired result.
I hope you enjoy listening to them as much as I do!"
Kurt Bjorling, 9. September 2014, Chicago
(Die vollständige Rezension finden Sie im Booklet der CD!)